February 12, 2013
Hear hear, Mac users: Do you use Lion or higher? Then this is for you. Version 3 of DynaMite, the sleek mite.client for Mac OS, has arrived!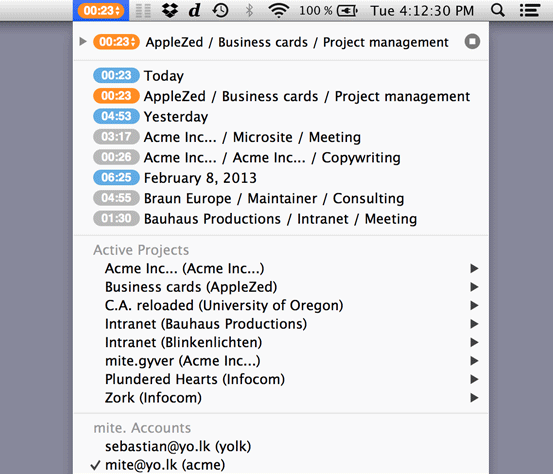 What is DynaMite?
DynaMite is an add-on for Mac users which is developed and maintained by Swiss MediaAtelier. DynaMite is kind of a remote for your mite. It sits directly in the menu bar of your Mac. Right here, you'll see at a glance if a timer is running, and if so, how many minutes you've been working already. Stop or edit running timers with a single click. Or create a new time entry with a running timer in no time at all.
What's new in version 3?
Idle timers
Time entries with multiline notes
Click a day summary to view the corresponding mite.page
Increase or decrease running timers right from your menu bar
Switch easily between multiple mite.accounts
How much is DynaMite?
DynaMite is an add-on of an independent 3rd party, Swiss MediaAtelier. Thus, you'll have to pay a small extra to use it. DynaMite costs €12 (one-time fee). If you upgrade from DynaMite 1 or 2, the upgrade is €5 only. If you bought DynaMite 1 or 2 on or after September 1st, 2012, the upgrade is for free.
Installation
DynaMite makes use of our open data interface, the mite.api. To setup the connection, you'll have to activate the mite.api for your user first. You'll find this option in mite by clicking on your user name in the upper right-hand corner. Please activate the corresponding checkbox there and save your changes.
During set-up, DynaMite will ask for your account name: that's the subdomain of your mite.account. E.g., if you login at https://acme.mite.de, the account name is »acme«.
Later on, a window will pop up, asking for your e-mail address and your password, or, your Mac will ask you to access your mite.credentials stored in your keychain. Please enter the credentials asked, or allow access to those infos in your keychain. DynaMite needs those credentials to connect with your mite.account.
Thanks, MediaAtelier
Stefan, thanks so much for continuously improving DynaMite! Merci, and grüezi to Züri.
~~
Update, 2019: MediaAtelier doesn't offer DynaMite to new customers anymore. So sad. However, as a current or former customer, you can still download DynaMite 3 over here.
Julia in New features, Add ons