Fast input, powerful output: mite lets you track your time in a structured way. Advanced reporting helps you and your team to stay on top of your daily business.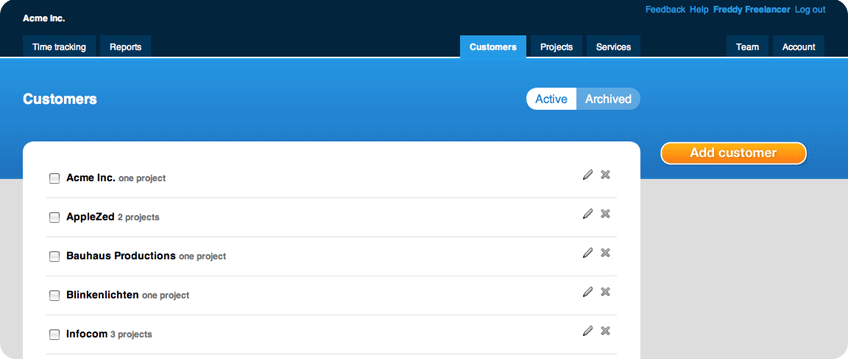 mite is made to be ready for use in seconds. Skip the handbook, skip the dubious clicks, skip the frustration. Clarity and simplicity turn your first steps into an absolute no-brainer, and your daily time tracking into an almost enjoyable routine.
Customers, projects, and services form the core hierarchy of structured time tracking. All objects can be archived anytime – you'll never have to delete anything just to gain some space.
Manual time tracking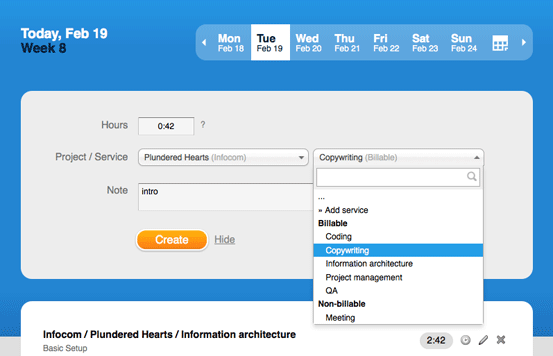 Time entries can be added with a precious few clicks: choose a project and a service, enter your time, and note optional details for reference. Done.
Timer

Let the timer do the tracking. It's like a server-side stop watch, so you can close the browser tab or even shut down the computer. The timer will be ticking until you come back to stop it.
Apps for iOS, macOS…
Time entries can not only be tracked in your desktop browser, but also on your smartphone, tablet, Mac, or directly from within third-party software. Wherever it suits you best. Have a look at our add-ons page for all apps and integrations.
Powerful reporting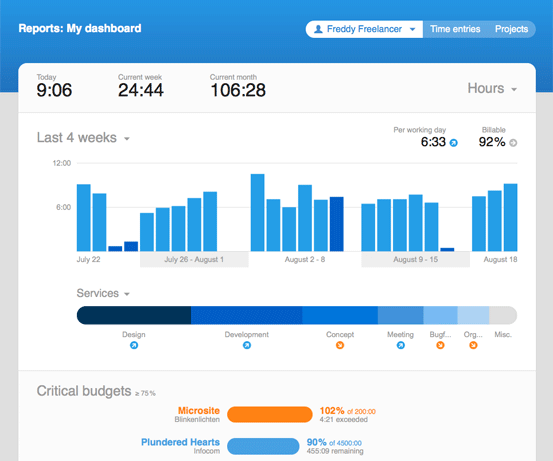 A pretty handsome timesheet? That's mite as well. What's more important: it's a tool that answers crucial questions day by day. What is the current work load of my team-mates? How much of my time is billable? Which projects take longer than expected every single time? Which types of service need to be done faster? Not only is mite a tool that tracks every single minute accurately, it shows you areas that need attention.
Features:
personal dashboard
team dashboard
dashboard for every team member
filterable list of all time entries
project dashboard
detailed project reports
Filtering & exporting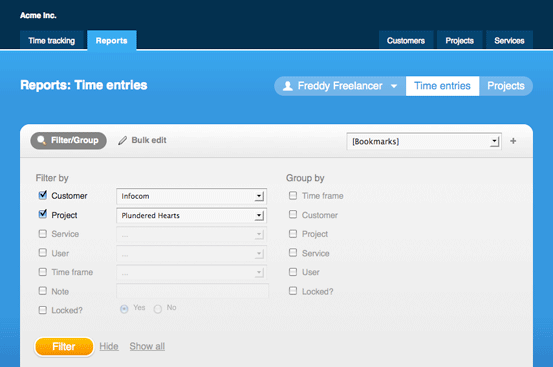 mite features a powerful reporting section that presents all data entered by your team. Flexible filters can be applied to this report, so you can squeeze out the information that matters to you. Filter or group by:
time frame
customer
project
service
user
note
characteristics such as billable/non-billable
mite is not a data dungeon – you can export anytime to XLS, CSV or XML files. Subscribe to a RSS feed containing only selected time entries (by project, by team member, etc.) or the whole news package.
Passion for details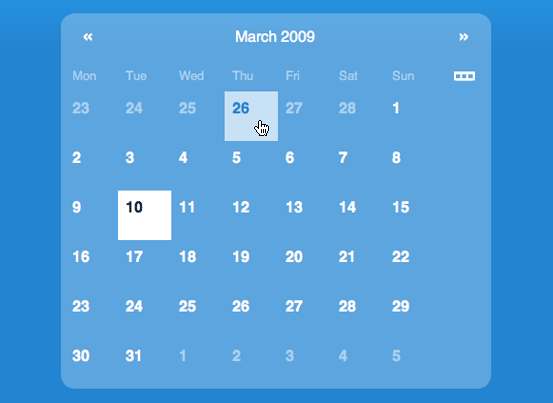 mite cherishes details. Like those major minor features that distinguish a usable tool from a useful one. The calendar navigation is one of those: it helps you quickly navigate to a point in history, but never lets you lose focus. You may expand the calendar smoothly from its weekly view to its monthly one. Plus, if you ever need to change the date of an already existing time entry, just drag & drop it onto the calendar. As simple as that.
User & rights management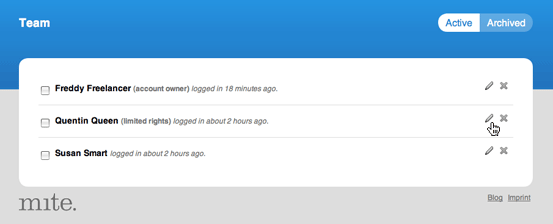 Get your team together. Add colleagues as a team member and start tracking your time together. Thus, your data will be taken care of at one single place. You'll know at a glance how a project is doing in total. Plus, you'll be aware of what your team members are working on in detail.
mite features four different user roles:
the account owner
administrators
co-workers
time trackers (time tracking only on projects an admin granted access to)
API
Developers welcome! The mite.api is available to every user. Go ahead and build add-ons or hook mite into other software. A detailed documentation will help you get started.
https://yourteam.mite.de
Try mite in action: Create a free trial account, it'll only take 60 seconds. The trial will be valid for 30 days. No credit card required, no ifs, and, or buts.