October 13, 2021
Mac user? Making use of the timer feature to exactly measure your working hours? This news is for you then: Today launches mite.nano, our new small app for macOS.
Features

mite.nano wants to make it easier for you to track your time on a Mac. It sits in your menu bar. Whatever you're working on, you can always keep an eye on a running timer. Double-click to stop the timer, never forget it.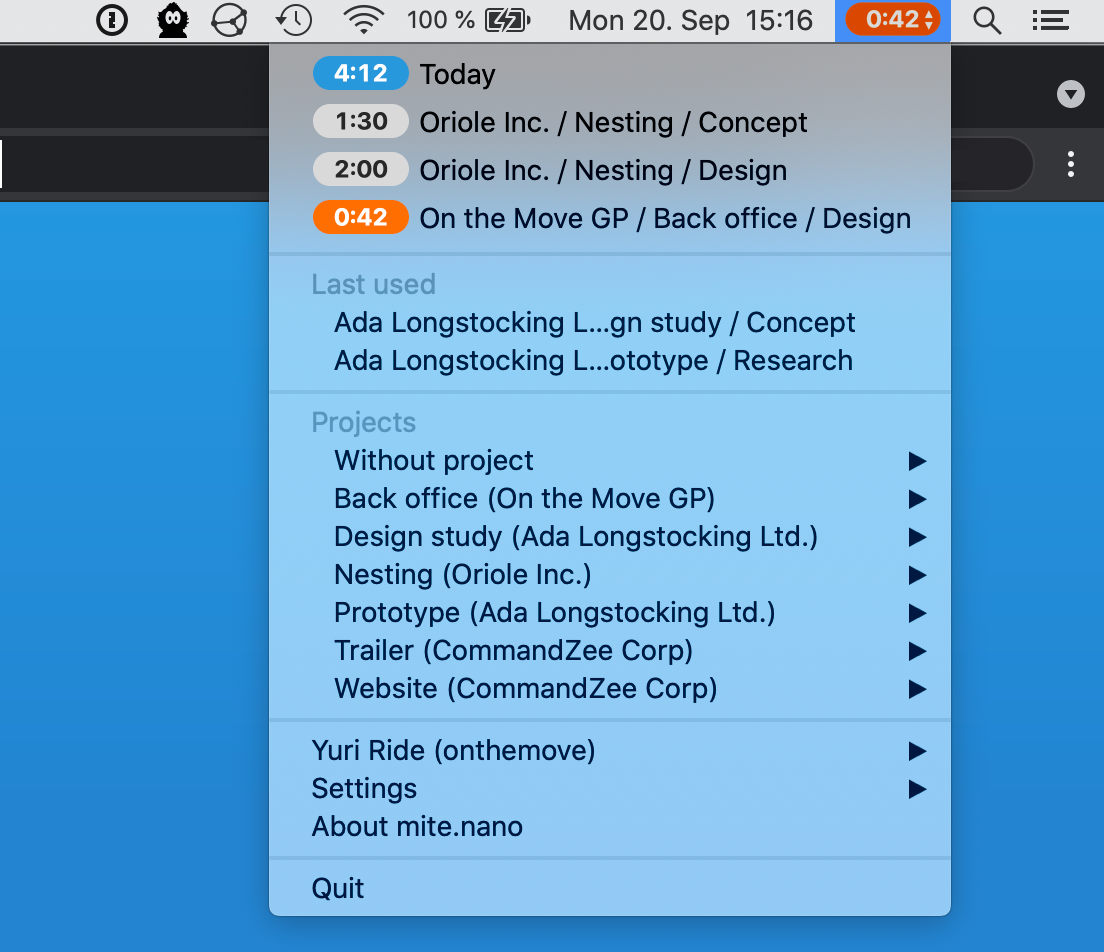 When clicking on mite.nano, a sleek pop-up menu will appear. Switch the timer to another time entry, create a new entry by picking from your recently used ones or by selecting another active project and service.
Furthermore, if you use mite with several teams, mite.nano lets you switch accounts easily.
mite.nano will cooperate smoothly with mite in your browser or on your smartphone. All data are stored centrally on our servers, so mite.wherever is always up-to-date.
Download
mite.nano is developed by us (our first native app, yay!). And thus 100% included in the regular user fees for mite.
Download mite.nano for free.
mite.nano is available in English and German language. It requires macOS 10.11 (El Capitan) or higher. 161 MB.
We tested mite.nano thoroughly. Nevertheless, this is a version 1.0, so bugs might have crept in. In case you stumble upon a problem or have feedback or a suggestion, please be so kind to tell us in as much detail as possible. Please send us an email or leave a comment right here. Your support would be much appreciated.
Merci
Our thanks go to Stefan Fürst from Swiss MediaAtelier. Back in 2009, Stefan developed an add-on for mite called DynaMite, which was retired in 2019. Obviously DynaMite has been a big "inspiration" for mite.nano. Many users missed the tool so much that – with his permission – we decided to rebuild his idea from scratch. Merci vielmal, Stefan!
Julia in New features, Add ons