February 16, 2011
iPhone, Android and Palm Pre users have been enjoying the mobile version of mite for a pretty long while now. Today, it's BlackBerry time, finally!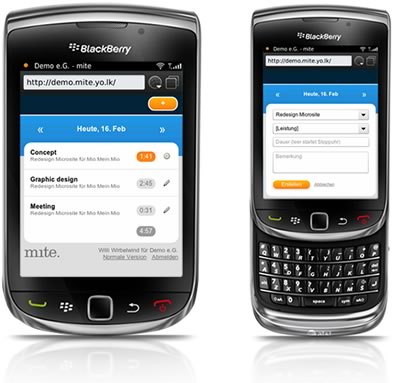 mite for mobiles, which is a version optimized for small displays, is now available on all BlackBerrys running the new operating system BlackBerry 6; by now, these are the following devices:
BlackBerry Torch 9800
BlackBerry Bold 9780
BlackBerry Style 9670
To get mite for mobiles on your BlackBerry, you won't have to install an app. Simply point the browser of your BlackBerry to your known login address – done. mite detects your device automatically and serves the simplified view, optimized for a fast mobile experience. With this mobile version, you can track your hours manually or with a timer. Time entries can be edited, deleted or moved to another date.
Please note: Today's release is a so-called beta, which means that it's a first approach, a test version. So please: if you stumple upon a bug, get in touch with a detailed description! Thanks to those details, we can find a bug much faster – and get rid of it. Thanks up front for supporting us!
Julia in New features