March 29, 2010
Hear hear, Mac users: version 2.0 of DynaMite was released today. With DynaMite, you have full control over your timers directly from the menu bar of your operating system – it's kind of a remote for your mite.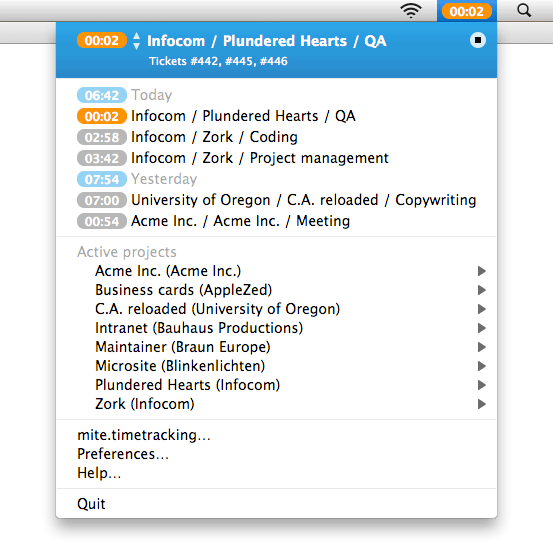 Thanks to the new version, time entries can now be enriched with notes. Plus, stopping a ticking timer became a whole lot easier: just right-click on the orange icon in your menu bar to stop the timer.
Features
Always keep an eye on ticking timers; And never forget to switch 'em off, ever, again.
Start, stop or switch timers with a single click.
See the total working time of your last working days at a glance.
If you're tracking your exact working hours throughout the day, DynaMite makes time tracking so much more easy. Really – we've been using it ourselves.
Installing DynaMite
DynaMite makes use of our open data interface, the mite.api. To setup the connection, you'll have to activate the mite.api within your account first. You'll find this option by clicking on your user name in the upper right-hand corner in mite. Please activate the corresponding checkbox there and save your changes.
During set-up, DynaMite will ask for your account name: that's the subdomain of your mite.account. E.g., if you login at http://testteam.mite.de, the account name is »testteam«.
Later on, a window will pop up, asking for your e-mail address and your password, or, your Mac will ask you to allow using your mite.credentials stored in your key chain. Please enter the credentials asked or allow access to those infos in your key chain. DynaMite needs those credentials to connect with your mite.account.
Trial vs. full version
You can give DynaMite a try for free: the only limitation of the trial version is that timers won't run for more than 30 minutes at one go.
A single license of the full version of DynaMite can be purchased within the external application. DynaMite is €10 $15, support by MediaAtelier included. Mac OS 10.5+ is required.
Merci, MediaAtelier
Adding notes to time entries in DynaMite was feature request number 1 since the first beta version. But, this feature wasn't trivial to add. Stefan Fürst, developer of DynaMite, had to rebuild DynaMite from scratch to make this happen. Therefore, we're double grateful he took this step. Thank you, Stefan!
Last but not least: Stefan is also the brain behind GrandTotal, the invoicing app for Mac users that integrates with mite. We're happy to inform you that this hint might be special to you. There's a promotion going on: If you buy GrandTotal and DynaMite bundled, you won't pay a Cent for DynaMite. The bundle costs exactly the same as a regular license of GrandTotal.
~~
Update, 2019: MediaAtelier doesn't offer DynaMite to new customers anymore. So sad. However, as a current or former customer, you can still download DynaMite 3 over here.
Julia in New features, Add ons