April 28, 2009
Mac user? We got something special for you: The first sleek Mac client for mite was released today. With DynaMite, you can control your timers directly from the menu bar of your operating system.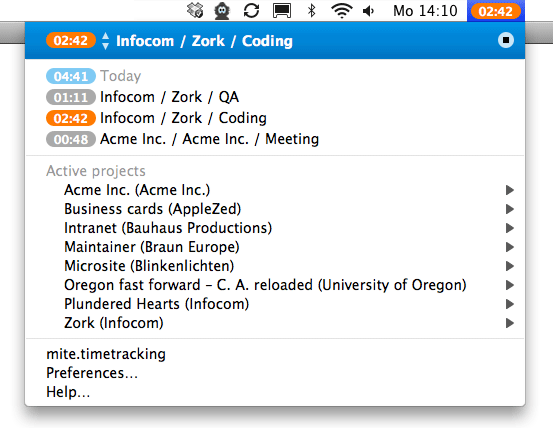 If you're tracking your exact working hours throughout the day, the tool comes in pretty handy. Always keep an eye on running timers; start, stop or switch timers with a single click. Directly from your menu bar, featuring a native look & feel. It cannot get much more comfortable to track your times.
DynaMite was developed by Swiss MediaAtelier, using our open API. It is available in English as well as in German language. You will have to run Mac OS 10.4.10 (Tiger) or higher to experience it. Please activate the API for your mite.account if you want to give it a try: you will find the option by clicking on your user name in the upper right-hand corner.
A trial is available for free forever, which will restrict the running time of your timers. A single licence can be purchased within the external application. DynaMite is €10, support by MediaAtelier included.
Any feedback, suggestions and ideas should be directed to Stefan Fürst, the developer. Thank you so much, Stefan, for your great work!
Update 12/04/09: Tiger is not supported anymore. DynaMite runs on 10.5 (Leopard) or higher.
Julia in New features, Add ons