March 18, 2013
Working days often differ strongly in detail, but follow a similar basic structur. At some moment of the day, we usually check our mails, take care of administrative issues, get our team on the same page in a meeting, and push forward our current project.
From today on, you won't have to add the same time entries from the ground up every single day. Instead, mite will be happy to help you kickstart your day. With a single click, you can now copy last working day's time entries as a template for the current day.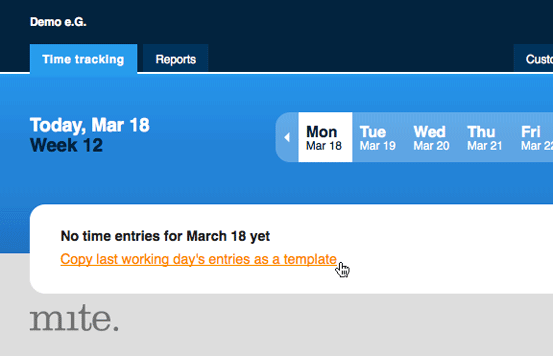 If you select a day without time entries, you'll see a link on the white content area which says »Copy last working day's entries as a template«. When you click on it, mite will duplicate the project and service of these time entries, delete their notes, and reset their hours. Now, you can start the timer on any of these template entries, or edit their hours directly.
If you don't need one or several of the copied time entries on the current day, simply delete them. The last working day is the last day on which you added at least one time entry. Time entries with archived projects and/or services won't get copied. Of course, you can manually add more time entries to the copied ones. The time tracking features you're accustomed with won't change at all.
We hope so much that this new feature will help you save some precious time, day by day! Please tell us how the update is working out for you. Constructive feedback is super-important for improving mite. Thanks!
Julia in New features