May 15, 2010
It's time to introduce myself, so that you know who's behind the new name that will answer some of your mails from now on:
I am a Media System Designer and worked as a self-employed web generalist for 8 years. During my diploma thesis, I supported the OLPC-Project in Ethiopia.  My last adventure took place in Santa Barbara, USA, where I worked as a Project Lead, a Developer and a UI Designer at ELC Technologies.
For me, a well written software should be simple, open in communication, and enjoyable to work with.  As a loyal user myself, I am inspired by how mite embodies these qualities. And now that they took me on board, I feel like I'm finally where I wanted to be! Here at my new, digital home: Yolk.
Coming in with a fresh perspective, I am extremely motivated to make use of my former experience for mite.  Together with Julia and Sebastian, I'm excited about the new things you'll see from Yolk.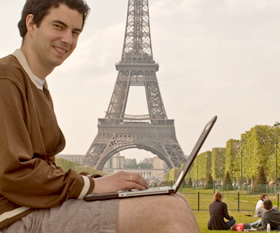 After Berlin (Julia) and Hamburg (Sebastian), I am aiming to open Yolk's third office in Paris. And yes, there is WiFi in the Parc du Champ de Mars.
Gregor in Inside out