May 22, 2009
With mite, you might share the report of a project with a third party in a very easy way. By activating the appropriate option on a single report, you will be given a private link. Hand this link to any person you want to be informed about the status of the project – as simple as that. Your customer, project manager or whoever will then be able to view the corresponding time entries. Even without his or her own mite.account.
We launched this feature in September 08. Today, we added the option to specify exactly what you want to show up in the shared report. Now, you can choose if you want the revenue as well as the user names to be displayed. Decide for yourself how much transparency should be added to your projects!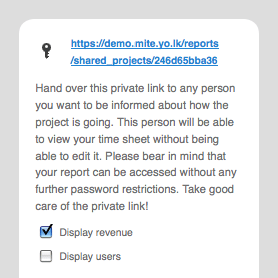 Thanks to Hagen, Jörg, Lucas, Jürgen and other users for suggesting this feature. Keep the feedback coming!
Julia in New features